Zero
Zero grazing happily with his new chestnut friend in his new home.
Dreamhill
Dreamhill had been confidently rehomed to a 'charity' that had promised to ensure his future welfare. It all turned horribly wrong, and his owners were horrified to learn of his fate. Emaciated and in a generally pitiful state, he, along with a number of other horses were extracted from the yard and sent to us. His owners were devastated especially because they had been confident that they had provided a comfortable retirement for him. Rescued at the age of seven, we nursed him back to health and now fifteen years old and going from strength to strength. Clare his carer writes: that she has had him for three years and that in his first summer he completed six endurance rides at novice level, and upgraded to open classes. The following year he completed seven rides doing mainly 50 – 65k and gained three grade one and a grade two averaging 13.5k/hour. She adds that he has finished the season looking wonderful, plenty of condition and muscle all over. He is a lovely character and knows what I am going to do before I do!
Gilbert's Girl (GeeGee)
Having been alerted to the condition of this mare, we immediately stepped in to help her. She was in a pretty poor state when she arrived. She had lymphangitis in both hind legs, which were running sore, she was emaciated, but worst of all, she was totally depressed. In a situation like this, our Shetland ponies are invaluable and Kerswell Tishen came to the rescue. At just 28 inches high, this little chap is too small to be a threat but cheeky enough to provoke a reaction from the most dejected horse. Of course, a little pony's constant greed coaxes a picky eater too. A course of anti-biotics, routine, a good deep bed in the dry, and our boiled barley and linseed potion soon sorted her out and it wasn't too long before she was on the road to recovery. As the months went on, Tish continued his job as a nursemaid to GeeGee and he could quite often be spotted poking his little head out from in between her front legs. As time went on, Tish went on to nursemaid countless other horses and GeeGee integrated into a herd.

GeeGee made a full recovery, and has been happily rehomed for some years. A few years ago, she paraded at our Open Day and won Best Turned Out. She is now 21 years old, and is taking life a little easier but her carer wrote this when she was 18: ' She has behaved impeccably on sponsored rides jumping everything and clearing each by at least a foot. We have such fun times, she is a little star. My appreciation goes out to Greatwood for what they have done for this extremely loving, affectionate mare that came to them in such a poor state. I thank them for allowing me to take her on and I would never be without her'
Agitando
Rather unusually, we had been asked to take in Agitando straight out of training. He had sustained a suspensory injury and he was on box rest for some weeks. A summer off, made a world of difference and before too long we were able to bring him into work. A compact and showy horse, he soon caught the eye of a potential carer. Susan came to see and ride him on several occasions and it was apparent the two had the makings of a great partnership. Now, over three years on the pair have gone from strength to strength being consistently placed in dressage and showing competitions including a trip to Hickstead.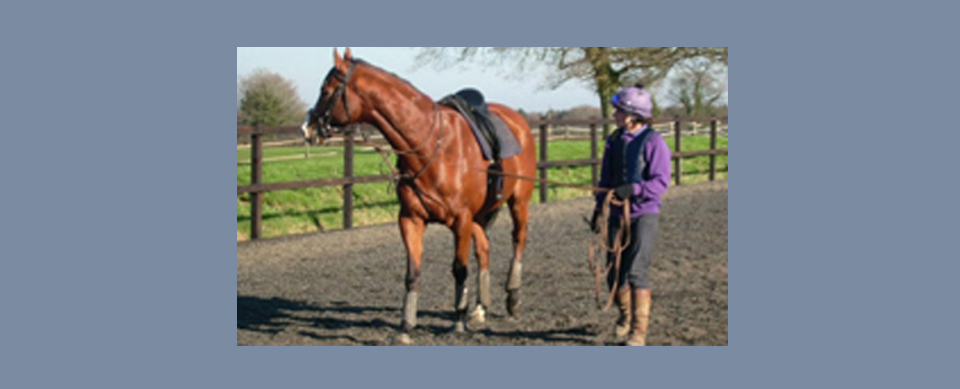 Divine Command (Otto)
Otto's carers, Sam & Glyn walker, have Otto back in regular work after a long hard winter. Otto's flatwork is still good; he hasn't forgotten what he learned before the winter and his jumping his coming along too. Sam says he is really well behaved and doesn't have any "little outbursts" any more. "He is calm, has very good stable manners, no vices, he is loving, and a pleasure to deal with. Thank you very, very much for this wonderful horse," said Sam, who lives in Sunderland. "We hope all is going well at Greatwood and we admire the work, love, care and dedication you all give to all of the horses in your care. Thank God for people like Greatwood, who care for these magnificent animals," adds Sam, which is lovely for us to hear.